peacecamp goes Filmfestival
Die traditionelle peacecamp-Matinee im Rahmen des jährlichen Jüdischen Filmfestivals Wien findet auch heuer statt.
Am Sonntag, 11.10. wird um 11 Uhr im Votiv-Kino eine Dokumentation des 13. peacecamps in Lackenhof am Ötscher und Wien gezeigt.
Siehe dazu auch http://www.jfw.at/2015/peacecamp-2015/ sowie den Anhang.
Wir hoffen, euch/Sie dort begrüßen zu können.
Eintritt frei – Spenden für das peacecamp-Projekt sind willkommen.
Liebe Grüße,
Evelyn und Ronny Böhmer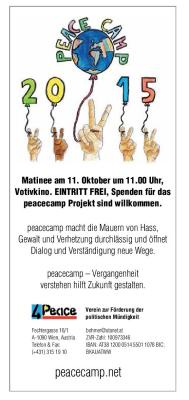 Details zum peacecamp: http://2015.peacecamp.net/
Details zum Festival: http://www.jfw.at/2015/
0 comments | Comment
please join show4peace - bring your family and friends
show4peace/Lackenhof: July 13th, 2.30 pm, Junges Hotel Lackenhof
show4peace/Vienna: July 14th, 6 pm, Dschungel/MuseumsQuartier/Vienna
Free entrance
0 comments | Comment
Meeting of the Jewish-Israeli and the Arab-Israeli groups of peacecamp 2015
Last week the Arab delegation from the Hand in Hand School in Jerusalem met with our delegation from Carmel Zvulun.
They arrived at 10 o'clock in the morning and met my very excited students who had already prepared breakfast for the guests.
For three hours the students had at the opportunity to get to know each other, talk, laugh and prepare a design for the t-shirt both delegations will wear on the day of the trip. The discussion on the whatsapp group that was created are endless: what color the shirt should be, which design to choose, to write all the names of only one sentence....in other words, they are pretty much into it and both groups are waiting impatiently for the 5th of July to arrive.
Liz Vanun
0 comments | Comment
peacecamp goes "Let's celebrate!", the Jewish Festival in Vienna
Please come and visit us at our peacecamp-stand!
Date: Sunday, June 21st, starting at 3 p.m.
Location: Vienna Municipality (Rathaus - Arkadenhof)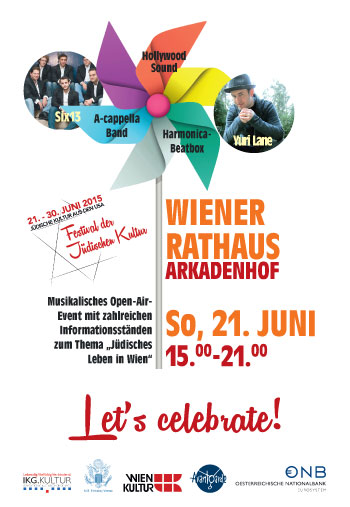 0 comments | Comment
Imam Ramazan Demir and Rabbi Shlomo Hofmeister talk about their friendship at the peacecamp matinee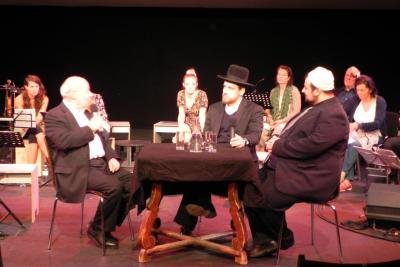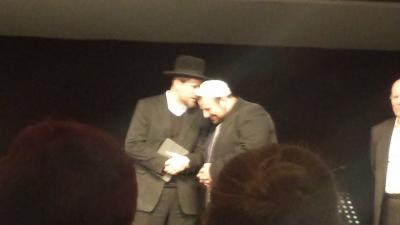 0 comments | Comment